Holy Land
|
Medjugorje
|
Lourdes
|
Shrines of Italy
|
Fatima
|
Camino de Santiago
|
Poland and Churches of Eastern Europe
|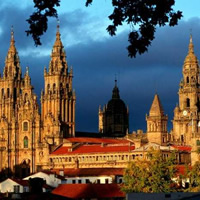 Camino de Santiago Pilgrimages
The Camino de Santiago de Compostela, also known in English as The Way of St James, is a collection of old pilgrimage routes. The final destination is Santiago de Compostela in the north west of Spain. Here you will find the finest examples of architecture in all of Europe. For more than 1000 years pilgrims have been walking along the Camino de Santiago. They follow the journey where St. James's remains were carried by boat from Jerusalem to northern Spain where he was buried on the site of what is now the city of Santiago de Compostela. (Walks each day along the Way of St James will not be strenuous, but expect to cover 100 120 km in the week. Coach and back-up car with group all along the route).

Camino de Santiago Programme

Please see below for a detailed description of the towns and villages we visit during our Camino de Santiago trip. The programme below is only a sample programme. For specific dates and a detailed programme please see our price list.
From Tarbes - On arrival in Tarbes, meet coach and transfer to Roncesvalles for an afternoon walk to Espinal. This evening transfer to Pamplona and check into the hotel for 1 night. Today's walks:8km
Morning transfer to Zariquiegui and walk to Obanos. From here, drive to Estella and walk via Irache, where you can sample the free flowing wine fountain, to Villamayor. Overnight in Logrono.Today's walks: 20km
Take a coach to Najera and walk to Cross.Drive to Santo Domingo and visit the Cathedral to hear the legend of the roasted cock. Then drive to Redecilla and walk to Belorado. From here drive to Burgos for overnight.Today's walks: 20km
This morning visit the Burgos Cathedral and see tomb of El Cid, the Golden Stairs, and the Flexible Crucifix. Take a drive to Boadilla and walk via Fromista to Villacazar. Afternoon coach transfer to Leon for 1 night. Today's walks: 20km
In the morning take a drive via Astorga to Foncebadon and walk via Cruz de Hierro to El Acebo. Then drive to OíCebreiro and visit the church of the Eucharistic Miracle. Nearby see the old thatched Pallozas. This is followed by a walk from Alto San Roque to Biduedo. This evening take a drive via Samos to Lugo and check in for 1 night. Today's walks: 20km
After breakfast take a morning walk from Melide to Ribadiso. In the afternoon walk from Amenal to Lavacolla for the traditional washing in the River Lavacolla. From here drive to the outskirts of Santiago de Compostela and walk to our goal, the Cathedral of St. James. Overnight in Santiago. Today's walks: 22km
On our final morning visit the Cathedral of St. James. See also the Portico of Glory, the Jessi Tree, Master Mateo, embrace the statue of St. James and see his Tomb under the high altar. 12 noon, Celebrate Pilgrims Mass in the Cathedral before enjoying lunch back at the hotel. Afternoon depart for Santiago airport.

DATES & PRICES IN CAMINO DE SANTIAGO | ACCOMMODATION IN CAMINO DE SANTIAGO